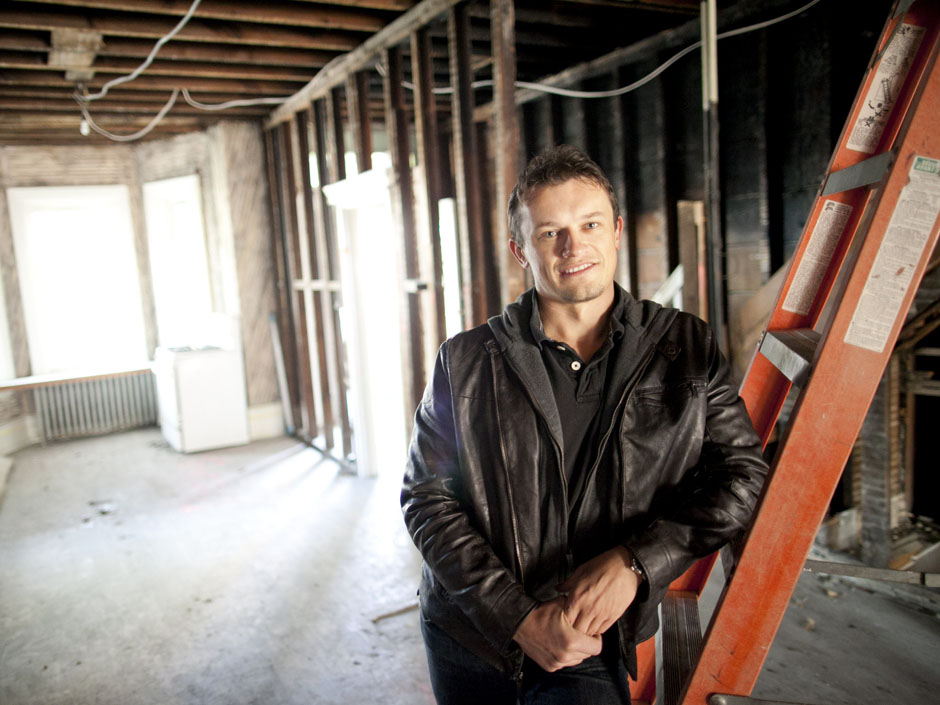 – Myself way back at one of our first projects. About to learn a lot about myself and leadership
I still remember the first property I ever flipped. What a nightmare. It was in a gentrifying area of "The Junction" in Toronto.
When I drove up to the house you couldn't even see the house, it was covered by bushes and shrubs.
The backyard was covered in dog shit. There must have been 5 dogs living there.
The kitchen was interesting. The cupboards didn't have doors and were painted pink. I think the owners were going for the open concept feel. The bathroom looked as if it had never been cleaned and the other bathroom you could barely fit into but at least you could wash your hands at the same time as you were sitting down doing your business.
You could hardly stand upright in the basement; the ceiling was so low. The basement was filled to the brim with junk (owner's precious goods). The floor was dirt in places. In one basement wall was a gap in the foundation and you could touch the driveway outside through brick- a massive crack. My future wife said "we can film horror movies in this house."
My home inspector thought I was crazy for pursuing this house. He said don't buy this piece of junk because you will need to sink a lot of money into it. He did provide me a thorough report with estimated costs for the work that would need to be done which was invaluable.
At that point, I had to decide, do I take this on? Do I look for something easier? Do I back down from a challenge?
Despite all this I decided I made a choice, I will renovate this house, sell it and make a bit of money doing it.
I had noticed a lot of junk in the property and I am sure some things had sentimental value to them and other stuff would be thrown out.
I made a point of talking to the owner and treating him with respect- always extremely important. I learned their true intentions and had an opportunity to make the process easier for them.
I did my calculations and put in an offer. I attached a letter directed to the owner as a schedule of the offer. This is what got me the property. In the offer, I outlined:
Flexible closing to allow the owners time to move their stuff
Anything that they do not need they could leave behind
If they needed to do any damage to remove some sentimental items that was fine
I knew that if I wanted to complete a successful project I needed to take this on and use some of those leadership skills I had developed.
Leadership Lesson 1: We often think about leadership as leading people. But leadership is also about leading a process. It is about being able to see around the corner and to create a response for whatever may be around that corner. For example, I knew there were risks with the renovation ballooning out of control. It was an old property and my renovations would be extensive. I had experienced sub-contractors come to the house and provide a quote. I asked a lot of questions! Renovating a house is all about facing problems. You must clearly identify the challenges and be able to respond with emotional tenacity-and a process. 
Once the house closed, the first thing I did when I walked into it was look around and say to myself, "Luke, what have you done?" The largest renovation I did to date was $50,000 and this one is going to be over $200,000. The scope of renovation was huge.
We needed to gut the house, put in new load bearing beams and posts, soundproof the party wall, repair the foundation wall, underpinning the basement, pointing the bricks, two new bathrooms, one new kitchen, new plumbing which involved moving the water meter, new electrical with a new panel, and new HVAC with new ductwork.
The plan was an open concept modern layout.
I was going to have to manage all the trades and have a foreman with a couple guys to do most of the work which did not require a license. I had to coordinate the architect, stager, structural engineer, mechanical engineer, the tradespeople and get them all on the same page.  This would be very challenging as a leader but I knew it would make me better for it. I thought to myself this was going to happen and a sense of excitement. Later comes a sense of being overwhelmed from everything that needs to get done and then a sense of fear. Fear is the worst. It has a crippling effect. It makes you want to give up. It makes you want to fight with all the people around you, or ignore the obvious. None of these actions is acceptable in most circumstances, especially if you want to be a great leader.
What was important to me was doing a good job on this project and managing it well to completion. I wanted to get out of my comfort zone and become a better leader. When I became overwhelmed and fearful, I did the following:
Talked to many people about what I was feeling
Talked to people to get their advice on the renovation
Talked to people who have done renovations and those who have never done any renovations
I sought their help in navigating these emotions and in asking the right questions.
Leadership Lesson 2: Asking the right questions is far more important than having the answers. A solution is nothing but information structured and packaged in a certain way. Asking the right questions will determine how the information is structured and allows for the formulation of solutions that can be customized to your specific situation. Wisdom is found in unexpected places and the people with the grey hair have a lot of this wisdom.
I read books about construction but more importantly I read about leadership. I attended networking events, I watched You-tube videos. I knew that I needed to improve as a leader. The end result was the goal for me, but I had a greater goal. My primary goal was to be able to take on larger projects and who I was becoming by going through the process. How was I changing? What type of leader was I going to become?
Leadership Lesson 3: Educating yourself is very important. Being and becoming a leader is more important than doing. Doing a good job with ease is by being who you want to become. Learn to listen to the voice within and surround yourself with people who will elevate you. Learn to be comfortable in silence to know yourself better.
At the beginning stages of a renovation, you need to clearly define two things:
What do you have?
What do you want the finished product to look like?
Do not to rush ahead into the renovation but stop and take account of what you really have. I visited the property many times before making any decisions. I stood in each room and looked around. I dreamed. I envisioned. But the primary thing I focused on was getting a feel for the house.
Consult with creative people. They do not have to be professional designers. They are people who go on Houzz or love to watch HGTV. Listen to their ideas and take their inputs into account. I told these people enough to get them excited. I ask questions. Listen without judgment or dismissing their ideas. Use their creativity to boost yourself.
Your architect, interior designer and stager will be key people who will have a noticeable impact outcome.
Not all architects/designers/stagers are created equal. Know each of your team members. Know their strengths and weaknesses, then leverage those strengths and minimize those weaknesses. Help your team members do what they are good at and make sure the team members have experience in what you want your finished product to look like. Make sure they know who your ideal client is going to be and design it with the end user in mind.
Make sure their strengths are aligned with the outcomes you're looking for. For example, if they are good at traditional homes and you are building an uber-modern home, they likely are not a good fit. Pictures are worth a thousand words-so use them to your advantage. Find pictures of properties that have been renovated in a similar style to what you want the finished product look like. Websites like Houzz and Pinterest are great for this. Share your pictures with your key designers and contractors. This helps to get everybody moving in the same direction. Create drawings and plans.
Consult the stager at the beginning. Most people who use a stager bring them in once the renovation is complete. I like to bring mine well in advance, and have them visit the job site early. We talk about what the finished product will look like. I'll ask her about furniture placement and the creation of spaces. I want to create cozy, functional, and purposeful places within the home. Take all the information I have at this point and create a furniture-placement map which allows me to have an idea of the flow and functionality of each room. This, in turn, will affect the lighting placement, the HVAC pipes (especially cold-air returns), and framing (for example, if you know that a TV will be in a certain spot, you may want to put in an electrical outlet, Ethernet, and cable box, as well as plywood in the wall, so that when you mount the TV, you don't have to locate the studs).
Leadership Lesson 4: Good leaders create an environment where creativity can flourish. Ask questions such as "If you could not fail, and budget was not a concern, what would you create here?" At the beginning stages, stay away from limiting creativity by getting bogged down in process details. At the later stages of a renovation when faced with a decision ask yourself "What does this mean to the aesthetics of the final product, to other aspects of the renovation, and to timeline and budget?"
Renovations, regardless of scope, can tax and overwhelm investors. If done correctly, it is an excellent way to add value to the property. In the end we had a successful renovation go over budget slightly we but made money in the end and a ton of leadership skills were developed.
That's it for this post.
Remember, the perfect Lifestyle is up to you!